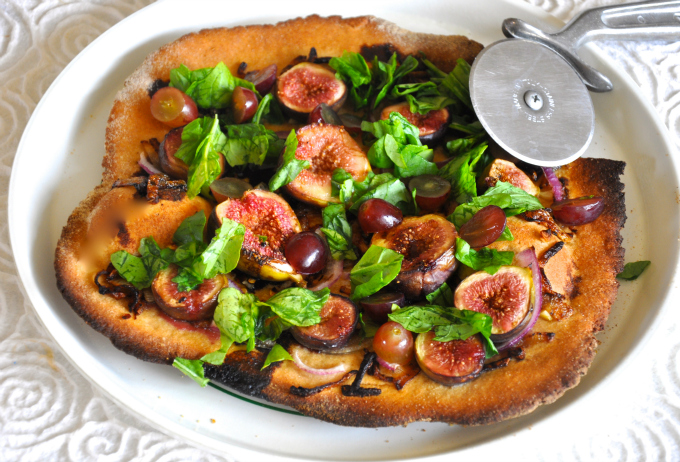 Summer is such a wonderful time of year to hang out with friends and family. I also think sunny skies and rising temperatures brings out the best in people because they are getting their vitamin D. Whenever possible, we should get our vitamin D from sunlight exposure, and not just supplelments.
Sunlight has been shown to have positive effects on depression, high blood pressure, acne and sleep disorders. Research has shown that people with optimal levels of vitamin D are much healthier than those with low levels. The last day of summer is September 20 and only 7 weeks away so I hope you enjoy every moment and all that healthy vitamin D.
Always have your vitamin D levels checked routinely by having a blood test. If you need a supplement, I recommend a vegan vitamin D3.
Now on to food.
Last night I served this fig and arugula flatbread with sunset cocktails. I really loved the combination of flavors from the peppery taste of the arugula to the sweetness of the figs and balsamic vinegar. Figs have a very distinctive flavor. The darker the figs the richer and earthier they taste. Fortunately for me, these brown figs are available from May to December here in California and they have a lovely, light, delicate flavor.
You can also buy dried figs for snacking. Figs are an excellent source of potassium, dietary fiber and a full array of nutrients.
Hope you enjoy this healthy plant-based flatbread recipe as much as I did. Wishing you a peaceful and compassionate week. Don't miss any of Ordinary Vegan's free recipes by signing up here.
Fig & Arugula Flatbread with Grapes & Balsamic Vinegar
Fig & Arugula Flatbread
This recipe may require a little work but the combination of flavors is delicious. You could also top with some vegan cashew cheese.
Ingredients
Prepared pizza dough for 1 pizza (recipe below)
½ onion, sliced
3 tablespoons balsamic vinegar
1 teaspoon vegan butter
10 brown figs, halved
2 teaspoons extra-virgin olive oil (split) (or more if desired)
1 clove garlic, finely minced
¼ red onion sliced
handful of arugula leaves
14 grapes, halved
sprinkle of red pepper flakes
salt & ground black pepper to taste
Instructions
Place a pizza stone in the center rack of the oven. Pre-heat oven to 500 degrees F.
In a medium saute pan, heat one teaspoon of olive oil. Add the onion, stirring occasionally, until onion slices begin to soften. Continue cooking until the onion caramelizes. Set caramelized onions aside. If onions are sticking, add a tiny bit of veggie stock to keep from sticking rather than more oil.
In a small pan over medium-low heat, simmer the balsamic vinegar until it reduces almost by half to a syrup consistency. You should have about 3-4 teaspoons.
Wipe out the saute pan, add the butter and heat. Add the figs in a single layer and quickly sear the figs cut side down. Sear quickly enough for color, but not cooked. 30 seconds or so. Set the figs aside.
Stretch out the pizza dough to your desired size or approximately 9 inches.
Sprinkle the dough with remaining 1 teaspoon of olive oil and a tiny bit of red pepper flakes.
Top the olive oil with the finely minced garlic.
Drizzle the dough with the balsamic vinegar. Sprinkle the red onion and carmelized onions over the top. Place the fig slices around the pizza, cut-side up. Season with a pinch of salt and black pepper.
Bake the flatbread until the crust has risen and browned. This can take 5-10 minutes depending on oven.
Cut the flatbread as desired. Scatter the arugula and grapes over the top and serve.
Pizza Dough
Ingredients
¼ ounce package of active dry yeast
¼ cup warm water
1 teaspoon of maple syrup
¾ cups cold water
2-2/12 cups white whole-wheat flour (or all-purpose flour)
1 tablespoon olive oil
1 teaspoons salt
2-4 tablespoons of cornmeal
Instructions
Dissolve the yeast and ¼ cup of luke-warm water. Let mixture stand until yeast begins to foam - approximately 10 minutes. Mix the cold water with olive oil, salt and maple syrup.
Put 1 cup of flour in mixing bowl fitted with a dough hook. Add the yeast mixture and begin mixing. Add more flour and water mixture and continue mixing. Adding more flour as you go and more cold water as needed. Mix until the dough forms a ball, pulls away from the sides of the bowl and is smooth and elastic. Remove from mixer and knead by hand for another few minutes. Transfer to an oiled mixing bowl, cover with a damp towel, and let rise in a warm area for 30 minutes, or until the dough has doubled in volume.
Spray a 19-inch pizza pan with olive oil and sprinkle with the cornmeal. I prefer an oven pizza stone that has been heated up for 40 minutes in a 500 degree oven. I use the cornmeal on the pizza board for easy sliding.
Turn the dough out onto a lightly floured work surface and cut into three separate balls and knead for about 5 minutes. Put onto a plate and cover with a damp towel. Let the dough balls rest for another 10 minutes.
Stretch out the pizza dough to your desired thickness and cover with toppings.
Pin It