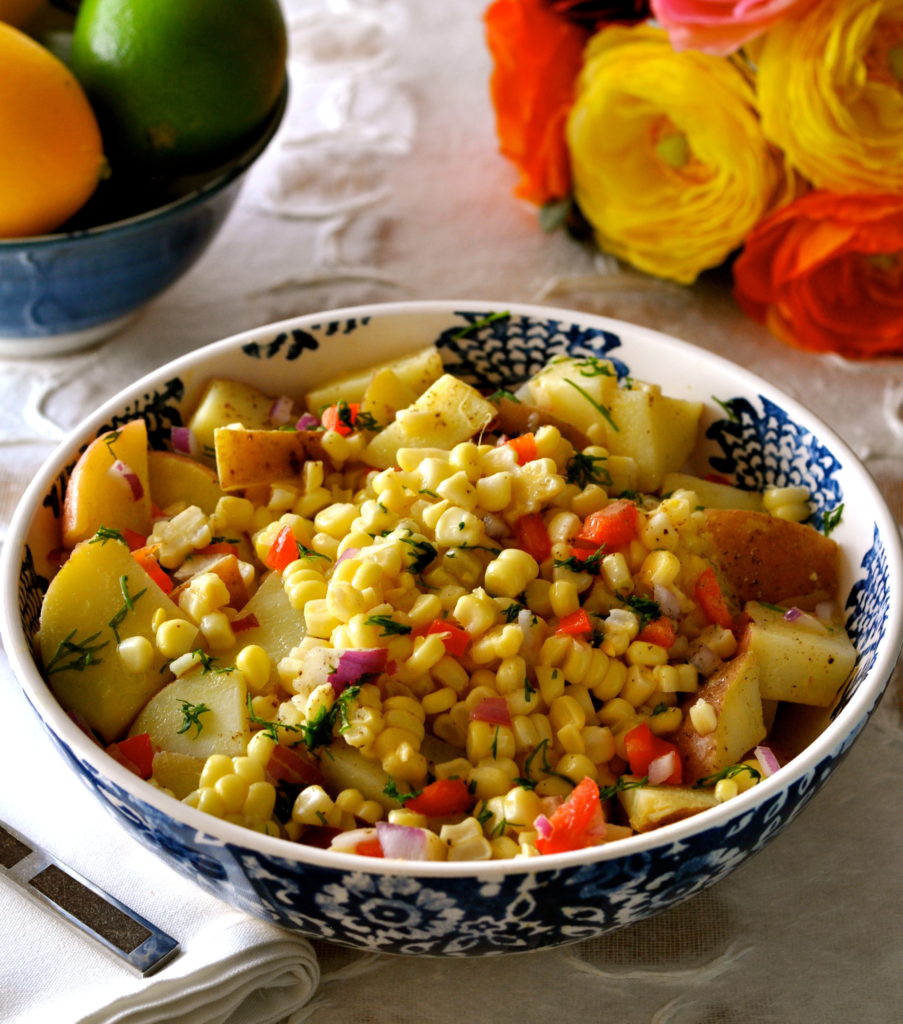 I can't believe summer is only a week away, and I am so ready for some easy, healthy summer salad recipes. Summer is too precious to waste indoors and for anyone who enjoys food and cooking, summer offers the finest produce. The key is to keep it simple and just enjoy the fresh, fragrant flavors of these seasonal ingredients.
That is what I tried to do with these summer salad recipes. Each salad has it's own unique flavor profile, and every dressing is light and oil-free. There is no reason to smother those beautiful flavors with lots of oil, fat and calories.
I don't know about you, but I love potato salad on a hot summer day. This potato salad is loaded with organic corn, red pepper, red onion, dill and lightly coated with a dijon vinaigrette dressing. How many ways can you say yum!!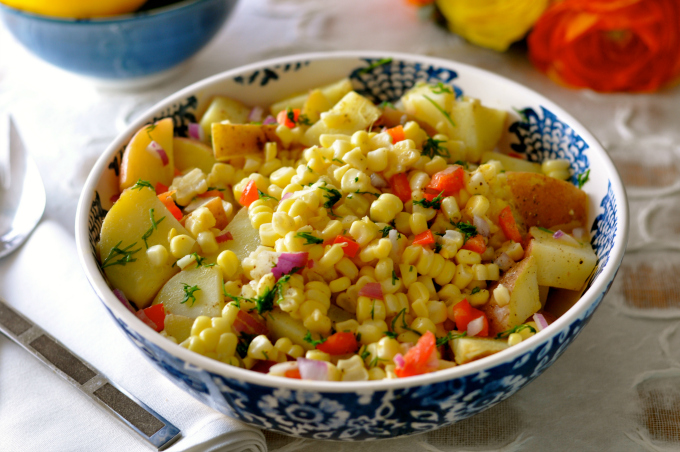 Healthy Summer Salad Recipes #1 – Vegan Potato and Corn Salad with Oil-Free Mustard Vinaigrette
My next healthy summer salad recipe is a simple arugula salad accompanied with sweet roasted carrots.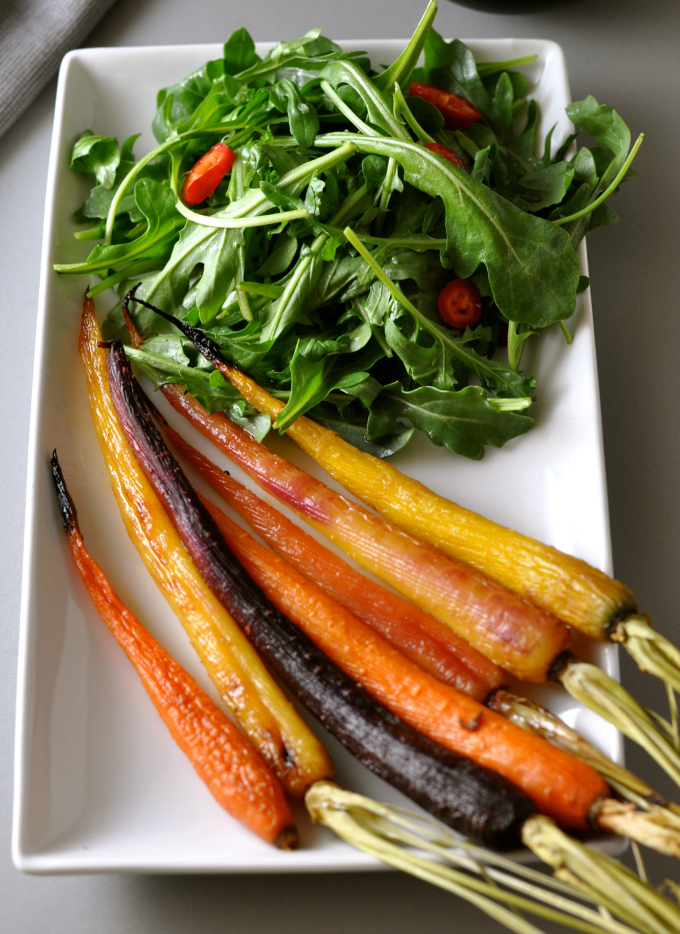 Healthy Summer Salad Recipes #2 – Roasted and Glazed Carrots with Arugula Salad
I love the intense flavors roasting brings out in vegetables, but you could also throw these carrots on the grill. Just remember you don't have to load on the oil. I made a glaze of lime juice and maple syrup and slathered it on before roasting and those roasted carrots were outstanding. The arugula salad was tossed with a light lime oil-free vinaigrette.
The last recipe I would like to share is this gorgeous summer heirloom tomato topped with an oil-free miso pistachio sauce.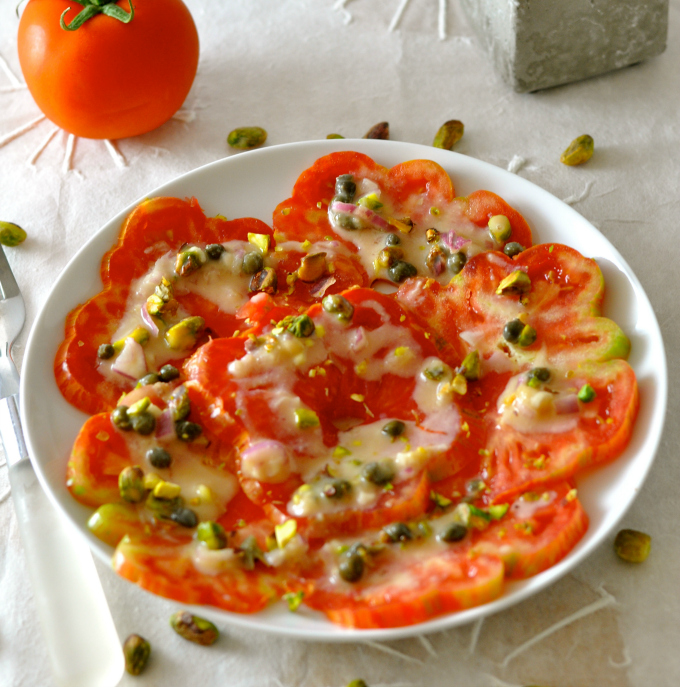 Summer Salad Recipes #3 – Heirloom Tomatoes Topped With A Pistachio Dressing
White miso replaced the oil in this recipe, and I must say it was outstanding. It really complimented the earthy, almost smokey sweetness of the heirlooms.
Hope you enjoy these healthy summer salad recipes as much as I did. I would also like to mention that June is National Dairy Month. I have seen lots of advertising about the health benefits of cow's milk which unfortunately isn't the truth. Please read my blog from February 15, 2016, on why the best milk to drink isn't from a cow.
That is why I'm excited about teaming up with Silk Non-Dairy Milk in 2016 and 2017 because I want to keep all of you as healthy as possible.  Non-dairy milk has all the health benefits of cow's milk except you won't be digesting any hormones or antibiotics. Most importantly, you won't be consuming casein, the number one protein in cow's milk that Dr. T. Colin Campbell has called "the most relevant cancer promoter ever discovered."
You can find Silk non-dairy milk at most mainstream grocery stores. They have many non-dairy options that include almond milk, soy milk, coconut milk, and more. Unsweetened almond milk is my favorite and I use it any of my recipes that calls for milk. Here is a store locator if you are having a problem finding it.  You can also sign up for their awesome newsletter which has coupons and lots of wonderful recipe ideas.
Please, always remember, winners, like our little guy, drink non-dairy milk!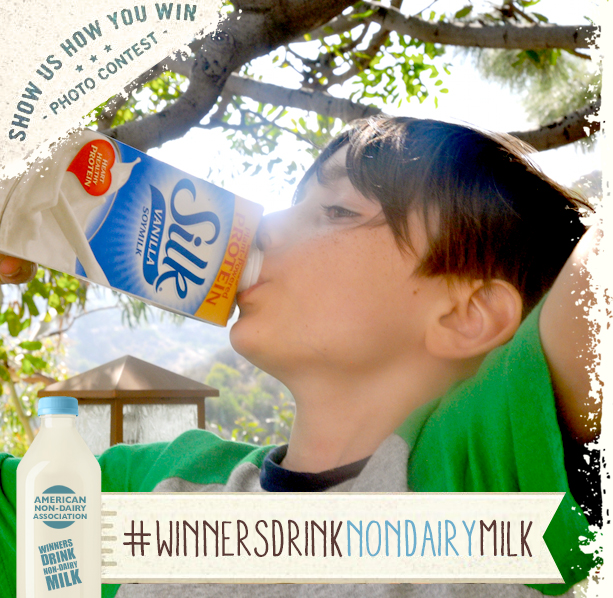 Thanks for joining us today.  If you want to receive all of Ordinary Vegan's free recipes, please sign up here.  Also, my podcasts are available on iTunes, or you can listen to them right here on my website. No fancy equipment needed, just some speakers. Wishing you a peaceful and compassionate week!
This is a sponsored conversation written by me on behalf of Silk. The opinions and text are all mine.

Pin It