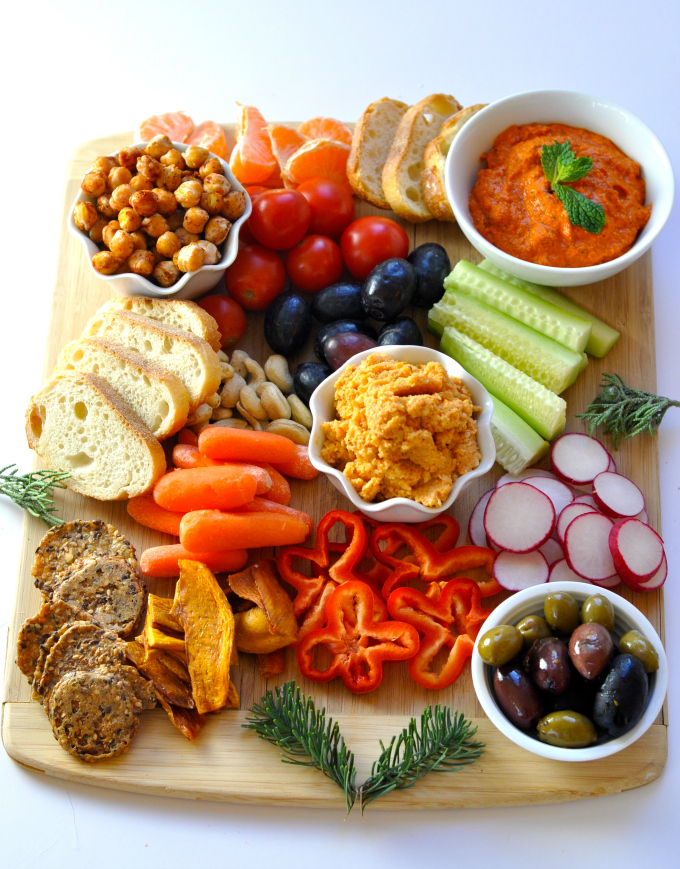 Vegan appetizers are one of my favorite food dishes to prepare and a must for any get-together. These vegan appetizers don't include expensive cheese, but they do include delicious, healthy cheese alternatives.
This year I focused on affordability. I often hear how expensive a vegan diet can be but you don't always have to shop at pricey grocery stores to get great produce. This week I tried a brand new store called Save-A-Lot. As you can see from the attached receipt, their produce was very inexpensive especially compared to most supermarkets.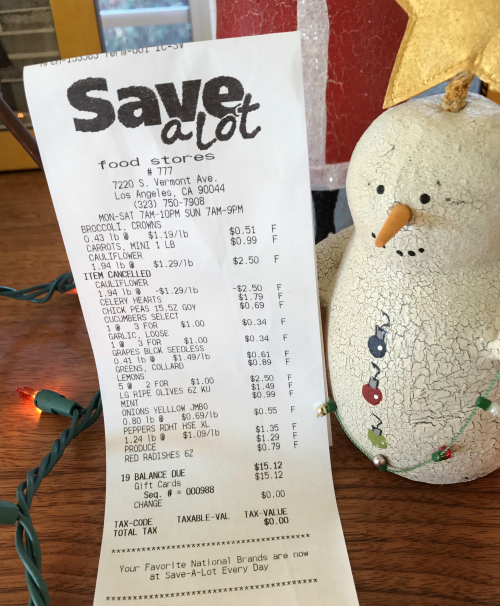 I used the three simple, fresh factors when choosing my produce for my vegan appetizers; color, texture, and ripeness. All of the produce I purchased at Save-A-Lot passed the test and tasted delicious. They also have non-GMO food choices like the garbanzo beans I purchased for the spicy roasted garbanzo beans appetizer.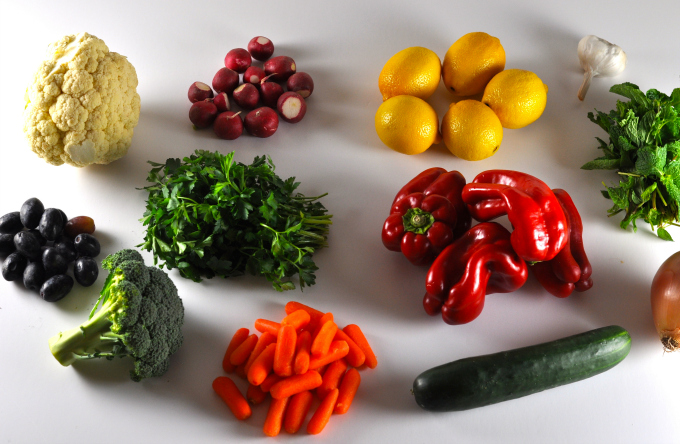 My Produce Choices From Save-A-Lot
At any rate, please don't let price get in the way of a healthy plant-based diet. There are affordable options at stores like Save-A-Lot.
Now let's talk about this week's vegan appetizers. First up, the spicy roasted garbanzo beans.
This is a family favorite and so simple to prepare. Just combine your favorite spices – I choose a little sweet paprika and cayenne for a spicy kick. I roasted them for approximately 20-25 minutes in a 450 F degree oven, and that was it.
Most roasted garbanzo bean recipes call for oil, but I see no reason to add oil. Always remember, oil is 100% fat, and there is no such thing as healthy oil.
Vegan Appetizers For The Holidays
I love Romesco sauce. You can put it on practically anything to enhance the flavor.
All it takes are some roasted hazelnuts and roasted red pepper. The hazelnuts are the most expensive item on this appetizer tray, but a little goes a long way. Today I added a little mint because it was so affordable at Save-A-Lot and it smelled heavenly.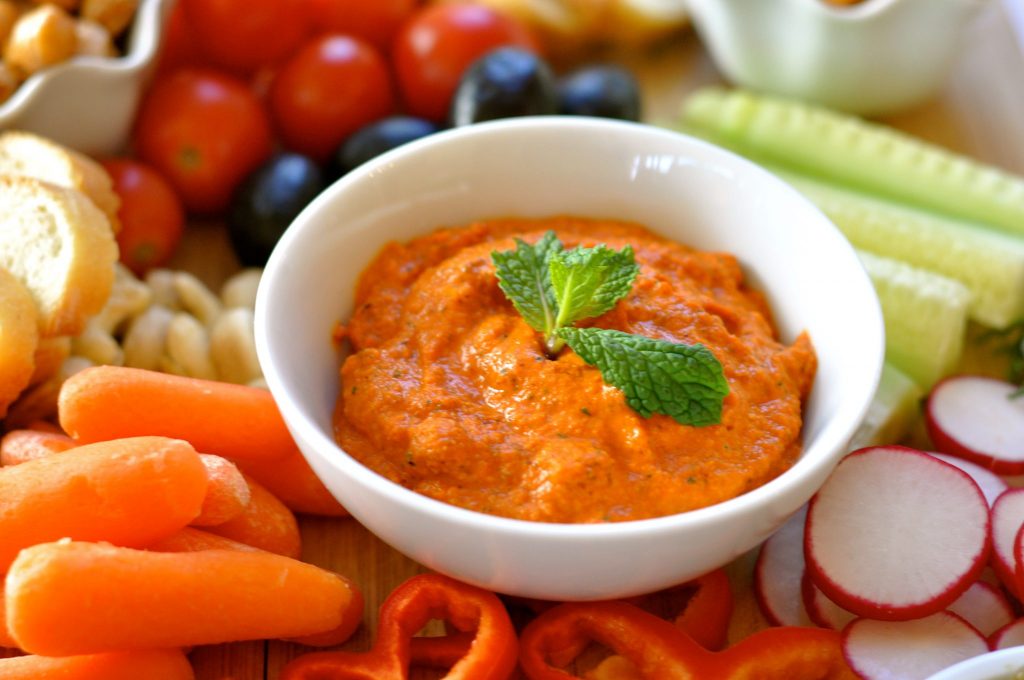 Vegan Appetizers For The Holidays
Next up is the smokey cauliflower hummus. This hummus is one of my favorite healthy recipes for the holidays and also one of the most inexpensive.
The large head of cauliflower cost me $1.29 at Save-A-Lot and made close to three cups of hummus. Here is what you do. Cut the cauliflower into florets and roast it in a 450 degree F oven for 20-30 minutes or until it is soft and a little golden. Put it into a food processor with some paprika, garlic, tahini, salt, pepper and vegetable broth and process until smooth.  Easy and inexpensive.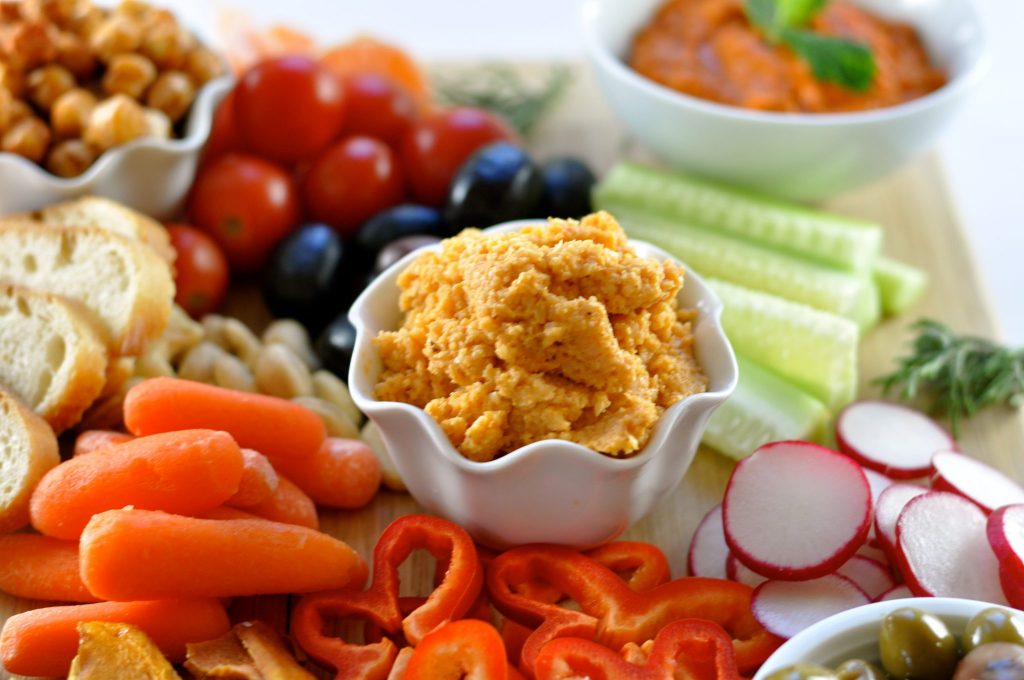 That is it for today's recipes. I hope you enjoy these vegan appetizers for the holidays as much as we did. Sending you lots of peace and compassion for the upcoming festivities.
If you would like to find a Save-A-Lot near you – here is a link. Just enter your zip code. Sign up for the Save-A-Lot smart shopper club. You'll receive the latest specials delivered weekly to your inbox and affordable meals for you and your family.
Don't miss any of Ordinary Vegan's free recipes by signing up here.
This is a sponsored conversation written by me on behalf of Save-A-Lot. The opinions and text are all mine.