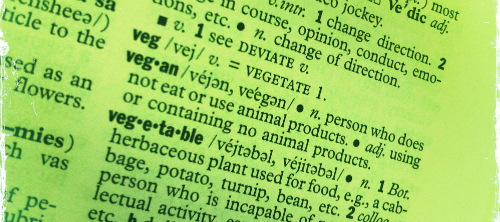 I once read a truly inspiring book called "Zen Mind, Beginner's Mind". I strongly identified with its concept of a "beginner's mind",  and the possibilities it would open for creative growth. The author explains it as "to have a simple, pure mind, open to possibilities".  It is the kind of open mindedness that allows you to learn, experience and savor the world around you. Your days are filled with wonder, curiosity, excitement and passion. Sound good? Of course, it does. I bring this up because when I became vegan, I developed a "beginner's mind". Eating a plant-based diet is physically, mentally, emotionally and spiritually healing. It opens up dormant regions of human potential and consciousness. I can honestly say, you will see life differently.
If you landed on this blog by accident, maybe the universe is trying to tell you something. If you are here because you want to consider eating a plant-based diet, congratulations. You are showing the most important person in the world (you) compassion, and that compassion and empathy will seep into everything you do in life. I am here to help you, so lets get started. First up, a grocery shopping list.
Since I became vegan, I have learned a lot about plant-based shopping and cooking. Many hits and many misses. Hopefully, this list will help you avoid the mistakes I made. My best advice would be to keep it simple, and always have some cooked whole-grains, veggies and beans on hand for easy and delicious meals. I try to stay away from all processed foods, but when I can't avoid it, I read the ingredients carefully. It may say "natural" on the front,  but that doesn't mean it's organic or non-GMO. It is particularly important that you avoid all GMO products which have been genetically altered and could be filled with pesticides.
Milk Substitutes
Rice, Almond or Soy milk – I don't recommend overdoing the soy products. Almond milk is tastier and equally high in protein
Fortified non-dairy milk
Butter Substitues
Earth Balance makes lots of vegan butter options and they are all delicious
Cheese Substitutes
Vegan Cheddar & Mozzarella (I like Daiya)
Vegan Ricotta (Nutty Cow is coming out with a ricotta vegan cheese that is out of this world)
Vegan Parmesan
Cream cheese and sour cream by Tofutti
Nutritional yeast (has the same salty, nutty taste as parmesan and delicious sprinkled on popcorn)
Egg Substitutes (for recipes)
Ener-G Egg Replacer
The Vegg – vegan egg yolks  (available online Amazon)
Meat Substitues - I personally don't eat many faux meats, but I have tried the following and they are yummy. I especially like Gardein products.
Gardein Fresh & Frozen Products (I particularly like the chicken and they also have beef strips which work nicely marinated for tacos) Try my yummy Gardein chicken piccata. It is one of my faves.
Amy's Frozen Products
Tofurkey  (They make sausage, turkey and many other faux meats – their vegan stuffed turkey breasts are very popular for Thanksgiving)
Field Roast (I like the vegan sundried tomato roast served with mashed potatoes and my vegan mushroom gravy – perfect when you need some comfort food)
Sweetners
Truvia (stevia for coffee and tea)
Maple Syrup (my favorite sweetener for recipes and toppings)
Condiments
Mayonnaise – Canola or Veganaise
Ketchup, Mustard – I like Annie's Naturals
Nuts
Nuts are high in protein and can be added to almost any meal. I like slivered almonds on salads, oatmeal or just for snacking.
Vegetables 
Vegetables – any and all fresh in season organic vegetables (more reasonably priced when in season) Eat as many vegetables as you like!
Fruit
Fruit – any and all fresh in season organic fruits (more reasonably priced when in season)
Yogurt
Soy / Almond / Coconut Yogurt (I prefer almond)
Cream Cheese (You don't have to give up your bagels -most bagels should be vegan, as the traditional recipe is simply a bread dough that is boiled and baked. Make sure they don't put an egg wash on it to make it shiny. Ask if they have any egg, honey or whey added to it. A pure plain bagel shouldn't have added ingredients)
Tofutti Cream Cheese
Organic Vegetable Broth 
Whole Foods, Imagine Foods or Pacific Natural make organic veggie broth (I use it for sauteing instead of oil and in soups)
Whole Grains – Brown rice, quinoa & farro are my high-protein staples to eat through-out the week. 
Whole grain breads
Brown rice
Quinoa (make a batch to add to salads, soups, under stir-frys etc – high in protein)
Farro (I like to make enough for a week so I can enjoy as a salad or warm for breakfast. It has a delicious nutty taste.)
"On the go" Breakfast and Cereal
Natures Path Frozen Waffles (gluten-free, original and flax-plus)
Barbara's organic breakfast cereal (shredded wheat/multi-grain/whole wheat flakes)
Instant steel-cut oats (serve with slivered almonds and berries)
Instant Oatmeal (Trader Joe's makes a whole-grain oats instant oatmeal with apples which is very nutritious and quick)
Warm farro with organic maple syrup (high-protein)
Almond yogurt (serve with slivered almonds and fruit for a high-protein breakfast)
Breakfast quinoa recipe
1/2 cup dry quinoa, well rinsed
1 1/2 cups vanilla almond milk
2 tbsp raisins
1 cup chopped fruit (apple, peach, apricot – whatever is in season)
1/4 tsp vanilla extract
Combine quinoa and rice milk in a medium saucepan. Bring to a slow simmer, then cover and cook for about 15 minutes until the quinoa is tender. Stir in raisins, fruit and vanilla then transfer to blender and puree. Return mixture to pan to mix and warm.
"On the go" dinner and lunch
I don't like frozen foods because of the salt content but if you are extremely busy and need something quick -I recommend pizza, soup or anything frozen and vegan from Amy's Kitchen. Amy's does not purchase any GMO ingredients.
What I like to do is keep a cooked grain handy (quinoa, rice, farro etc. – stir-fry some veggies with beans or chickpeas (high protein) – serve over warmed grains – quick, easy & healthy
Pasta
Whole-wheat pasta is easy to prepare. Serve with some sauteed chopped tomatoes, sundried tomatoes and basil. For extra protein try sauteed chickpeas, sundried tomatoes, red onion and a leafy green over pasta.
Protein
Tofu – lots to choose from but I like the firm – You can add tofu for extra protein to pretty much anything. It takes on the flavor you cook it with. Remember, don't overdo the tofu. There are so many other ways to get your protein.
Tempeh – love the marinated Maple smoked bacon tempeh at Whole Foods. Perfect for a vegan blt or reuben.
Seitan – add to chili for texure – no one will miss the beef
Chick Peas – Add to salads and soups. Mash them up with some veganaise and put them on sliced bread with avocado, sprouts and tomatoes.
Whole Grains – Quinoa, Whole Wheat Rice, Farro
Legumes
Protein Powder - Plant-based protein powders mixed in smoothies made of almond milk, fruit or sweet figs.  I don't believe in drinking too many of your calories because I believe it doesnot satiate the appetite.
Soba Noodles
Cook them in a broth and top with veggies – I like to add a peanut sauce
Beans – High source of protein!
Chickpeas, lentils, black beans, kidney beans etc. – Buy in bulk to save $$$s
Also…don't believe everything you read about gas and beans. There are many things you can do like soaking the beans with a little baking soda and throwing away the soaking liquid, Another tip, cook a whole peeled potato with the beans. Do not eat the potato and throw away before serving. Digestion shouldn't be a problem once you've adapted to the dietary fiber increase. Also, there should be no problem with lentils and chickpeas aka garbanzo beans.
Canned Beans
Make sure your purchase low-salt and rinse thoroughly before using to get rid of the starch.
Hotdogs (beware of the ingredients in any processed food – make sure the sodium isn't too high)
Tofu hotdogs
Lightlife Smart Dogs
For the cupboard
Chick-peas (my favorite high-protein go to food for soups, salads, mashed for sandwiches, hummus)
Sun-dried Tomatoes  (great to add to stir-frys, tofu scrambles or tomato sauce)
Olives
Roasted red peppers in the jar
Canned kitchen ready organic ground tomatoes (low-salt)
Flour
Whole-wheat flour
White whole-wheat flour (available at Whole Foods)
Chick-pea flour
Seasonings – Great additions to add flavor depending on the dish
Red pepper flakes,
Sriracha
Garlic
Low-sodium soy
Dried basil / oregano
Ground Chipolte
Onions
Lemon
Parsley
Mint
Peppers
Ginger
Rice Vinegar
Deserts
So Delicious Dairy Free Ice Cream – all flavors
Purely Decadent Ice Cream
Rice Dream
Tofutti Cuties mint chip ice cream sandwiches
Jo-sef gluten free, vegan chocolate cookies
72% dark or bittersweet chocolate (any chocolate marked over 70% is non-dairy but check the ingredients)
Cafe Indigo vegan whoppie pies (available at Whole Foods)
Almond pudding cups – I like Zen Almond Chocolate Puddings
Soy whipped cream
Justin's dark chocolate vegan peanut-butter cups
Snack Foods
Whole grain crackers - Wasa crackers are yummy.  Check the ingredients before you buy and make sure they aren't loaded with salt and oil.  Always look for the word whole in front. Spread some peanut butter and jelly on it for a filling snack.
Hummus - Hummus is wonderful high-protein snack. Serve with carrots, cucumber, cherry tomatoes or i spread inside some whole wheat pita bread with cucumbers & sprouts.
Whole grain fig bars. Barbara's Raspberry Fig Bars have zero fat.
 Whole Wheat Pita Chips -Cut whole wheat pita bread into triangles and put on a cookie sheet. Roast at 400 until crispy. Serve with salsa or hummus.
Baked sweet potato - Sweet potatoes are filled with cancer-fighting beta carotene. Wash your sweet potato, poke some holes in it and bake until tender. Add some maple syrup on top.
 Cheesy popcorn
1/2 cup popcorn kernels and 1 tablespoon nutritional yeast.
Pop popcorn kernels in air popper. Transfer popcorn to large bowl. Sprinkle with nutritional yeast and mix evenly.  Nutritional yeast adds a cheese-like flavor and keeps the crunch of popcorn. Red Star makes a nutritional yeast with a B12 supplement. Yummy and great for you.
Edamame
6 cups water, 1 pound edamame – Bring water to a boil in large pot. Add soybeans return to boil. Cook approximately 10 minutes. Or get the shelled frozen.
 Frozen mango chunks or grapes
Almond milk pudding cups - My favorite brand is Zen.
Homemade trail mix -  could include raisins, dates, walnuts, almonds and oats, or use as a cereals with some almond milk for a quick and easy high protein snack
Salads - Anything you can muster up to make a yummy salad. I like to pour a high protein, oil-free dressing on it. Here is one of my favorites
Ordinary Vegan's no oil Salad Dressing
3 tbsp plain hummus
2 tbsp balsamic vinegar
3 tbsp orange juice
1 tsp mustard
1/2 tsp fresh ginger grated (or from your spice rack just use 1/8 tsp or to taste)
1/2 clove garlic chopped (optional)
Whisk together
 So Delicious Dairy Free Almond Milk Minis Chocolate covered Bars  – When you need ice cream, this is good option.
 Amy's Roasted Vegetable, no cheese Pizza with rice crust - Pop in the oven for a gluten & dairy free snack. Eat half and save the other half for later.
 Fruits -  I love all fruit and in the winter when the choices aren't as desirable, I always have frozen organic fruits in my freezer to top onto my oatmeal. I personally don't make smoothies because I don't believe you should drink your calories but frozen fruits are great for making smoothies.
Banana bread - Here is my vegan recipe. Make a loaf for the week for quick and easy snacking.
Vegan Energy Bars -  I like Nu-Go
Guacamole - high protein
Almond Butter - love Justin's 1.15 ounce size to carry in my purse)
Peanut Butter
Vegan Energy Bars - I personally like Nu-Go bars which are 100% vegan)
Salsa
Dried fruit
Prepared baba ghanoush
Ground Flax-seed
Called one of the most powerful plants foods on the planet and helps fight everything from heart disease, diabetes to breast cancer. Two tablespoons a day should do it. Sprinkle on cereal, in sauces etc. It has a pleasant nutty taste. Make sure it is ground. If the flax seed passes through the digestive process, unbroken, the body does not receive the nutritional benefits.
Kid Friendly vegan foods
Amy's Kitchen Rice Mac & Cheese
almond /  yogurt
Health is Wealth chicken-free vegan nuggets
Bean and rice burritos
Frozen waffles
whole-wheat pasta with tomato sauce
 **Justin's (at Whole Foods or order online) makes a small 1.15 ounce package of all natural almond butter or peanut butter. Great for "on the go."  Throw a few into your purse, desk drawer or in your car in a plastic bag with some flax crackers and you always have a health vegan option.
 **I also carry around almonds and dried cranberries. Great energy boosters and satisfying when vegan food isn't available. 
Easy any time meal:
Stir fry some of your favorite vegetables – add a protein (tofu/tempeh/chick peas/edamame) – season with ordinary vegan's holy trinity of spices – garlic, serrano pepper and ginger. Serve over a whole grain like quinoa, brown rice or farro.
Healthiest Packaged Foods:
The healthiest foods are the foods that come straight out of the garden and are consumed in their natural form or as simply prepared as possible. These foods are fresh fruits, vegetables, starchy vegetables, legumes, and intact whole grains and should be the focus of any healthy diet.
Packaged and processed foods are usually loaded with fats, free oils, salt, refined sugars/sweeteners and refined carbohydrates/grains, They are also almost always calorie dense.
However, there are some packaged and processed foods that can be included as part of a healthy diet. And in fact, keeping some of them around and on hand, can actually make following a healthy diet, easier.
1. Organic Frozen Vegetables
2. Organic Frozen Fruits
3. Quick Cooking Brown Rice
4. No Salt added Organic Canned Beans (I like Eden)
5. No Salt added Organic Tomato Produces
6. Intact Whole Grains (Oatmeal, buckwheat, barley, brown rice, cracked wheat, quinoa and millet)
7. Whole Grain Pasta
8. Organic Dried Fruit
9. Unsalted Raw Nuts/Seeds & Nut/Seed Butter
10. Salt Free Spices/Seasoning & Herbs
Pin It
Other Posts You May Enjoy: