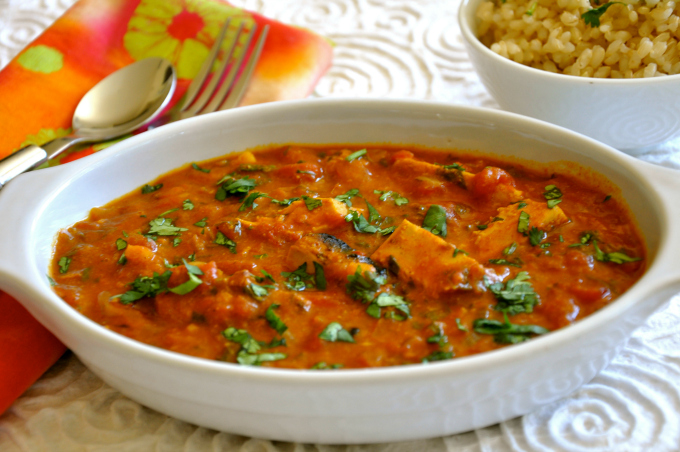 I was inspired to create this recipe because my friend and part-time assistant told me it was her favorite Indian dish. Tika Masala is traditionally chunks of chicken marinated in spices and yogurt and served in a masala spice sauce of tomatoes and coriander. Many of these spices may seem exotic, but I find I use them often in my vegan cooking especially for my curries.  The vegan Beyond Meat chicken worked really well especially when you consider it withstood broiling and boiling. As a matter of fact, I don't think anyone would be able to distinguish between the vegan chicken and the animal based one. Hope you enjoy this healthy plant based recipe as much as I did. Wishing you a peaceful and compassionate week-end.

Vegan Chicken Tikka Masala
Ingredients
Vegan Chicken Coating (or tofu)
1 12 ounce package of Beyond Chicken Strips, strips cut in half
1 teaspoon ground cumin
1 teaspoon ground coriander
2 teaspoons ground turmeric
1 teaspoon salt
2 garlic cloves, chopped
2 teaspoons ginger, finely chopped
1½ cups of plain almond or soy yogurt
Stew
1 tablespoon of extra-virgin olive oil
1 small onion, chopped
6 cardamom pods, crushed
½ teaspoon crushed red pepper flakes
¼ cup tomato paste
3 garlic cloves, chopped
2 teaspoons ginger finely chopped
2 teaspoons ground turmeric
1 teaspoon ground coriander
1 teaspoon ground cumin
1 28-ounce can crushed tomatoes
2 cups of light coconut milk
1½ tablespoons maple syrup
¾ cup fresh chopped cilantro
serving
2 cups cooked steamed rice for serving
Instructions
Vegan chicken
Combine 2 garlic cloves, 2 teaspoons ginger, 2 teaspoons turmeric, 1 teaspoon ground coriander, 1 teaspoon ground cumin and salt in a medium bowl. Whisk in yogurt. Add the vegan chicken and turn to coat. Cover and chill 4 hours or more.
Stew
Heat oil in a large heavy non-stick pot over medium heat. Add onion, tomato paste, cardomom and chilies and cook, until tomato paste has darkened and onion is soft, about 5 minutes. Stirring frequently.
Add 2 teaspoons turmeric, 2 teaspoon of ground coriander and 1 teaspoon ground cumin. Cook another 3 minutes, stirring frequently.
Add tomatoes and bring to a boil. Reduce heat and simmer, stirring often, for about 10 minutes or until sauce thickens.
Add coconut milk and chopped cilantro. Simmer, stirring occasionally, for 30 minutes.
Meanwhile, preheat broiler. Place the oven rack between the middle and the top. Line a rimmed baking sheet with foil and arrange chicken in a single layer. Place on rack. Broil until vegan chicken gets browned, about 5-7 minutes, being careful not to overcook.
Add chicken to sauce and simmer for another 5-8 minutes.
Serve with rice and fresh cilantro.
Pin It